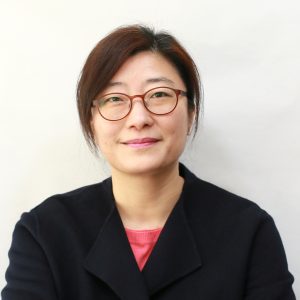 박미경, Mikyoung Park
Principal Researcher
EDUCATION
Ph.D. Department of Neurobiology, Duke University (2006)
M.S. Department of Biochemistry, Yonsei University (1998)
B.S. Department of Biology, Kyung Hee University (1995)
RESEARCH CAREER & ACTIVITIES
2015~present: Pharmacological Research (Editorial Board Member)
2015~present: Frontiers in Molecular Neuroscience (Editorial Board Member, Review Editor)
2011.01~present: Principal Investigator, KIST, Seoul, South Korea
2016.09~present: Professor, Dept. of Neuroscience, UST, Seoul, South Korea
2011.09~2016.08: Assistant Professor, Dept. of Neuroscience, UST, Seoul, South Korea
2007.08~2010.12: Postdoctoral Fellow, Stanford University, HHMI, Biology, CA, USA
2007.02~2007.07: Postdoctoral Fellow, NINDS, NIH, MD, USA
2006.05~2007.01: Postdoctoral Fellow, Duke University Medical Center, NC, USA
Mechanisms of hippocampal synaptic plasticity, learning and memory, and neurodegeneration
Imaging synaptic function
Dorsal and ventral hippocampus differentiate in functional pathways and differentially associate with neurological disease-related genes during postnatal development. Lee, A.-R., Kim, J.-H., Cho, E., Kim, M., Park, M. Frontiers in Molecular Neuroscience. 2017, 10:331.
Cyclin Y-mediated tanscript profiling reveals several important functional pathways regulated by Cyclin Y in hippocampal neurons. Joe, I.-S., Kim, J.-H., Kim,, Hong, J.-H., Kim, M., Park, M. PLoS ONE 2017, 12(2): e0172547.
Palmitoylation in Alzheimer's disease and other neurodegenerative diseases. Cho, E., Park, M. Pharmacological Research2016, 111:133-151. (invited review)
Cyclin Y inhibits plasticity-induced AMPA receptor exocytosis and LTP. Cho, E., Kim, D.-H., Hur, Y.-N., Whitcomb, D., Regan, P., Hong, J.-H., Kim,, Suh, Y.H., Cho, K., Park, M. Scientific Reports 2015, 5: 12624.
CYY-1/Cyclin Y and CDK-5 differentially regulate synapse elimination and formation for rewiring neural circuits. Park, M., Watanabe, S., Poon, V.Y., Ou, C.-Y., Jorgensen, E.M., Shen, K. Neuron 2011, 70: 742-757.
Plasticity-induced growth of dendritic spines by exocytic trafficking from recycling endosomes. Park, M., Salgado, J.M., Ostroff, L., Helton, T.D., Robinson, C.G., Harris, K.M., Ehlers, M.D. Neuron 2006, 52: 817-830.
Recycling endosomes supply AMPA receptors for LTP.  Park, M., Penick, E.C., Edwards, J.G., Kauer, J.A., Ehlers, M.D. Science 2004, 305: 1972-1975.