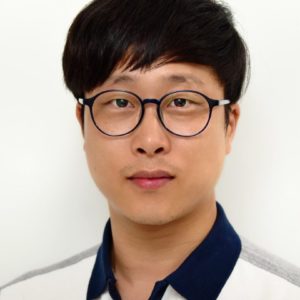 홍규상, Gyu-Sang Hong
Senior Researcher
EDUCATION
MS/Ph.D. Medicine and Biopharmaceutical Sciences, Seoul National University, Seoul, Korea (2010-2016)
B.S.  Bio & Nano chemistry Kookmin University, Seoul, Korea (2001-2008)
RESEARCH CAREER & ACTIVITIES
Senior Researcher, Brain Science Institute, Korea Institute of Science and Technology (KIST) (2018-Present)
Postdoctoral Researcher, Brain Science Institute, Korea Institute of Science and Technology (KIST) (2016-2018)
Postdoctoral Researcher, Seoul National University (2016)
Molecular Mechanism and Biophysics of Ion Channels
Understanding of Memory and Neurogenesis (Brain Disorders)
Development of Novel Drugs
Hong GS*, Lee SH*, Lee BJ, Jang Y, Jung J, Kim IB, Oh U. ANO1/TMEM16A Regulates Process Maturation in Radial Glial Cells in the Developing Brain. Proc Natl Acad Sci U S A. 31 May 2019 .
Gyu-Sang Hong, Byeongjun Lee and Uhtaek Oh. Evidence for Mechanosensitive Channel Activity of Tentonin 3/TMEM150C. Neuron, Volume 94, Issue 2, p271–273.e2, 19 April 2017.
HONG GS*, Lee B*, Wee J, Chun H, Kim H, Jung J, Cha JY, Riew TR, Kim GH, Kim IB, Oh U. Tentonin 3/TMEM150c Confers Distinct Mechanosensitive Currents in Dorsal-Root Ganglion Neurons with Proprioceptive Function. Neuron, 91, p107-118. June 16, 2016.
Cha JY, Wee J, Jung J, Jang Y, Lee B, Hong GS, Chang BC, Choi YL, Shin YK, Min HY, Lee HY, Na TY, Lee MO, Oh U. Anoctamin 1 (TMEM16A) is essential for testosterone-induced prostate hyperplasia. Proc Natl Acad Sci U S A. 2015 Aug 4;112(31):9722-7. doi: 10.1073/pnas.1423827112. Epub 2015 Jul.