홍규상, Gyu-Sang Hong
Senior Researcher (PI)
EDUCATION
MS/Ph.D. Medicine and Biopharmaceutical Sciences, Seoul National University (2010-2016)
B.S.  Bio & Nano chemistry Kookmin University, Seoul, Korea (2001-2008)
Assistant Professor, Neuroscience in Division of Biomedical Sci. & Tech. in University of Science and Technology (KIST-School) (2021-Present)
Senior Researcher, Brain Science Institute, Korea Institute of Science and Technology (KIST) (2018-Present)
Postdoctoral Researcher, Brain Science Institute, Korea Institute of Science and Technology (KIST) (2016-2018)
Postdoctoral Researcher, Seoul National University (2016)
Molecular Mechanism and Biophysics of Ion Channels
Understanding of Memory and Neurogenesis (Brain Disorders)
Development of Novel Drugs
Bok Eum Kang
Post-Doc (2021-Present)
EDUCATION
Ph.D. Neuroscience in Division of Biomedical Sci. & Tech. in University of Science and Technology (KIST-School)
BS DePauw University
Memory Genesis in Hippocampus
Molecular mechanism of ion channel in Neural Stem Cells and Neurodevelopmental Disorders (Autism)
Development of Mechanosensor
Kyungmin Kim
Post-Doc (2021-Present)
EDUCATION
Researcher (2020)
MS/PhD in Seoul National University (2021)
BS in Catholic University of Korea
Molecular mechanism of ion channel in Neural Stem Cells and Neurodevelopmental Disorders (Autism)
Memory Genesis in Hippocampus
EDUCATION
Researcher (2020-Present)
MS in Jeonbuk National University
Pharmacological effect on Nervous system
Molecular mechanism of ion channel in Neural Stem Cells and Neurodevelopmental Disorders (Autism)
EDUCATION
Ph.D. candidate in Life Science , Korea University (KIST Student Researcher) (2020-Present)
BS. MS. Department of Convergence Biotechnology in Konkuk University
Mechanobiology in Sensory Transduction
Pharmacological effect on Nervous system
Jungwoong Chu
MS/PhD Candidate
EDUCATION
MS/PhD Course, Neuroscience in Division of Biomedical Sci. & Tech. in University of Science and Technology (KIST-School) (2021-Present)
BS. Bioengineering in Cha University
Molecular mechanism of ion channel in Brain Disorders
Pharmacological effect on Nervous system
Hyeyoon Kim
MS/PhD Candidate
EDUCATION
MS/PhD Course Candidate, Neuroscience in Division of Biomedical Sci. & Tech. in University of Science and Technology (KIST-School) (2022-Present)
Intern Researcher in KIST (2021)
BS. Bio Convergence in Kookmin University
Molecular mechanism of ion channel in Neural Stem Cells and Neurodevelopmental Disorders (Autism)
Alzheimer's disease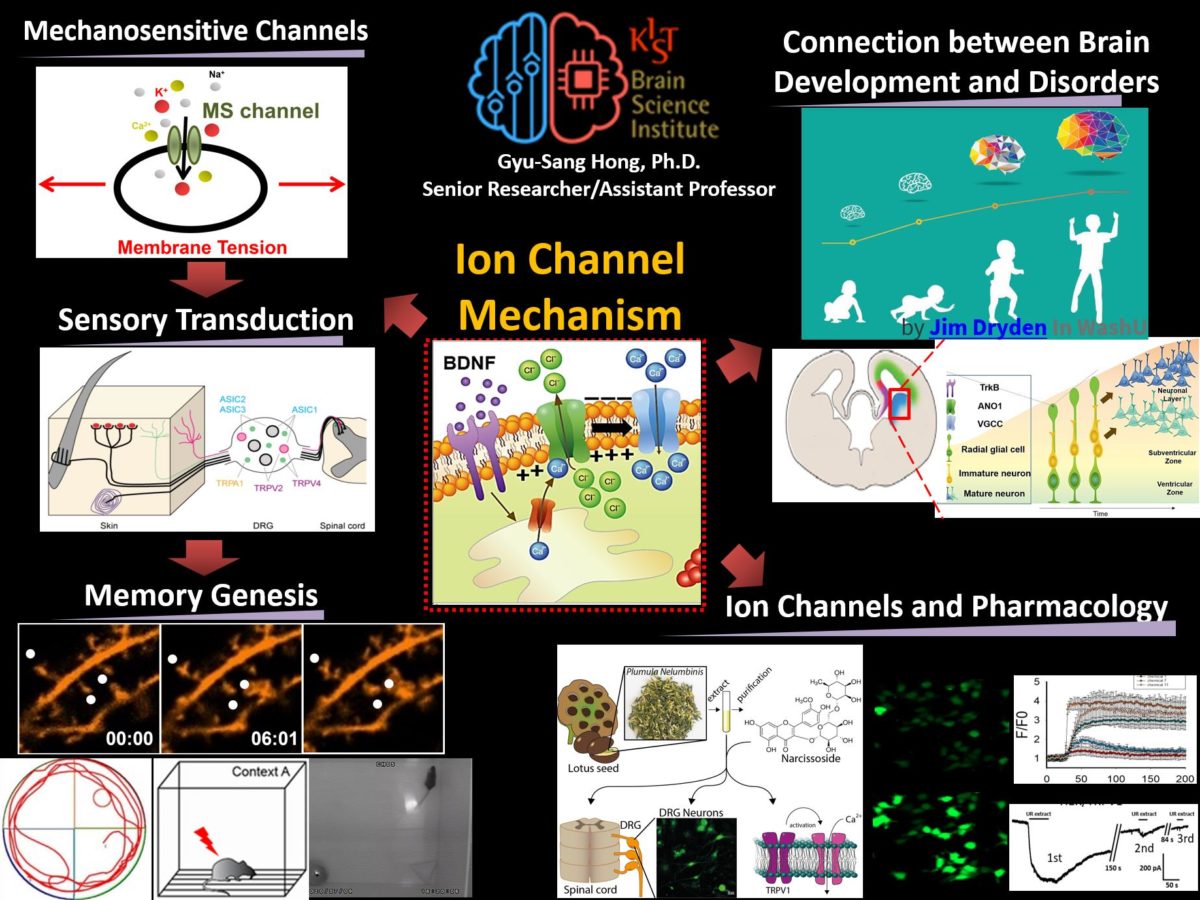 Lead Author
Lotus Seed Green Embryo Extract and a Purified Glycosyloxyflavone Constituent, Narcissoside, Activate TRPV1 Channels in Dorsal Root Ganglion Sensory Neurons. Taewoong Ha*, Mi-Sun Kim*, Bokeum Kang, Kyungmin Kim, Seong Su Hong, Taek Kang, Junhyuk Woo, Kyungreem Han, Uhtaek Oh, Chun Whan Choi, Gyu-Sang Hong.  J Agric Food Chem. 2022.
Ano1/TMEM16A Regulates Process Maturation in Radial Glial Cells in the Developing Brain. Hong GS*, Lee SH*, Lee BJ, Jang Y, Jung J, Kim IB, Oh U. Proc Natl Acad Sci U S A. 2019.

Evidence for Mechanosensitive Channel Activity of Tentonin 3/TMEM150C. 

Hong GS, Lee B, Oh U. Neuron. 2017.

Tentonin 3/TMEM150c confers distinct mechanosensitive currents in dorsal-root ganglion neurons with proprioceptive function. 

Hong GS, Lee B, Wee J, Chun H, Kim H, Jung J, Cha JY, Riew TR, Kim GH, Kim IB, Oh U. Neuron. 2016.
Co-Author
Tentonin 3/TMEM150C regulates glucose-stimulated insulin secretion in pancreatic β-cells. Jungwon Wee,1,4,5 Sungmin Pak,2,4,5 Tahnbee Kim,4 Gyu-Sang Hong,4 Ji Seon Lee,3 Jinyan Nan,3 Hyungsup Kim,4 Mi-Ock Lee,2 Kyong Soo Park,1,3,* and Uhtaek Oh1,4,6,* Cell Reports. 2021.
Tentonin 3/TMEM150C senses blood pressure changes in the aortic arch.   Huan-Jun Lu,1,2 Thien-Luan Nguyen,1,2 Gyu-Sang Hong,1 Sungmin Pak,1 Hyesu Kim,1 Hyungsup Kim,1 Dong-Yoon Kim,3 Sung-Yon Kim,3 Yiming Shen,4 Pan Dong Ryu,4 Mi-Ock Lee,2 and Uhtaek Oh1.  J Clin Invest. 2020.
Anoctamin 1/TMEM16A controls intestinal Cl− secretion induced by carbachol and cholera toxin. Byeongjun Lee, Gyu-Sang Hong, Sung Hoon Lee, Hyungsup Kim, Ajung Kim, Eun Mi Hwang, Jiyoon Kim, Min Goo Lee, Jin Young Yang, Mi Na Kweon, Chung Ming Tse, Donowitz Mark, Uhtaek Oh. Exp Mol Med. 2019.
Ultrasonic Neuromodulation via Astrocytic TRPA1 Soo-Jin Oh 1, Jung Moo Lee 2, Hyun-Bum Kim 3, Jungpyo Lee 4, Sungmin Han 5, Jin Young Bae 6, Gyu-Sang Hong 7, Wuhyun Koh 8, Jea Kwon 2, Eun-Sang Hwang 3, Dong Ho Woo 7, Inchan Youn 5, Il-Joo Cho 9, Yong Chul Bae 6, Sungon Lee 10, Jae Wan Shim 11, Ji-Ho Park 12, C Justin Lee 13. Curr Biol. 2019

Anoctamin 1 (TMEM16A) is essential for testosterone-induced prostate hyperplasia. 

Cha JY, Wee J, Jung J, Jang Y, Lee B, Hong GS, Chang BC, Choi YL, Shin YK, Min HY, Lee HY, Na TY, Lee MO, Oh U. Proc Natl Acad Sci U S A. 2015.

 

Red ginseng extract blocks histamine-dependent itch by inhibition of H1R/TRPV1 pathway in sensory neurons Yongwoo Jang 1, Wook-Joo Lee 2, Gyu-Sang Hong 3, Won-Sik Shim 2. J Ginseng Res. 2015.

A role for Piezo2 in EPAC1-dependent mechanical allodynia. 

Eijkelkamp N, Linley JE, Torres JM, Bee L, Dickenson AH, Gringhuis M, Minett MS, Hong GS, Lee E, Oh U, Ishikawa Y, Zwartkuis FJ, Cox JJ, Wood JN. Nat Commun. 2013.
Ghrelin receptor is activated by naringin and naringenin, constituents of a prokinetic agent Poncirus fructus Yongwoo Jang 1, Su-Won Kim, Jungeun Oh, Gyu-Sang Hong, Eun-Kyoung Seo, Uhtaek Oh, Won-Sik Shim. J Ethnopharmacol. 2013.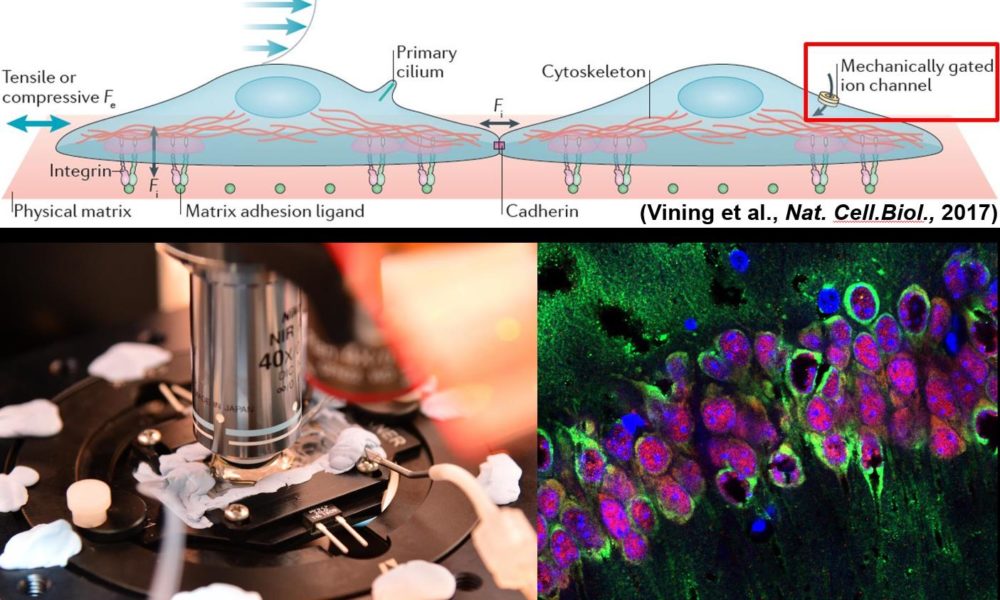 Mechanobiology and Ion Channels
We are attempting to answering the question of
'How physical forces affect neural cells and contribute to physiology and brain disorders?'
"What is the roles for ion channels in the nervous system?'
1. Neural Cell based Mechanobiology and underlying Brain Disorders
(Neural Stem Cells, Synaptic Transmission in the brain, Sensory Transduction)
2. Activation Mechanism and the physiological roles of Ion Channels in the Nervous System