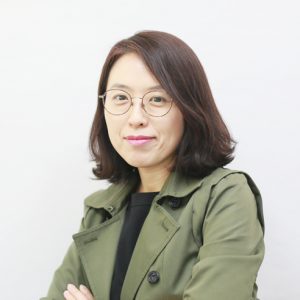 황은미, Eun Mi Hwang
Senior Researcher
EDUCATION
Ph.D. Neuroscience, Department of Neuroscience and Biotechnology, Ajou University (2004)
M.S. Molecular biology, Kyung Hee University (1998)
B.S. Biology, Kyung Hee University (1996)
RESEARCH CAREER & ACTIVITIES
Senior Researcher, Center for Functional Connectomics, Brain Science Institute, Korea Institute of Science and Technology (KIST) (2010-Present)
Associate Professor, Department of Neuroscience, The University of Science and Technology (UST) (2013-present)
Adjunct Professor, Department of Convergence Science and Technology, KHU-KIST (2016-present)
Research Professor, Department of Physiology, School of medicine, Gyeongsang National University (2005-2010)
Postdoctoral Research Fellow, Department of Biochemistry, Seoul National University (2004~2005)
Physio- or Patho-physiolocal functional studies of ion channels using interactomes based on PPIs in the brain
Development of molecular tools for controlling the cell-type specific gene expression and optogenetic stimulation
Direct interaction with 14-3-3γ promotes surface expression of Best1 channel in astrocyte. Oh SJ, Woo J, Lee YS, Cho M, Kim E, Cho NC, Park JY, Pae AN, Justin Lee C, Hwang EM. Mol. Brain 2017, 10(1):51.
Suppression of 14-3-3 γ –mediated surface expression of ANO1 inhibits cancer projression of glioblastoma cells. Lee YS, Lee JK, Bae Y, Lee BS, Kim E, Cho CH, Ryoo K, Yoo J, Kim CH, Yi GS, Lee SG, Lee CJ, Kang SS, Hwang EM*, Park JY* Sci. Rep. 2016, 6, 26413.
TWIK-1 contributes to the intrinsic excitability of dentate granule cells in mouse hippocampus. Oleg Y, Lee DY, Kim EJ, Cho JH, Choi JH, C. Justin Lee, Park JY, Hwang EM. Mol. Brain 2014, 7, 80.
A disulphide-linked heterodimer of TWIK-1 and TREK-1 mediates passive conductance in astrocytes. Hwang EM, Kim E, Yarishkin O, Woo DH, Han KS, Park N, Bae Y, Woo J, Kim D, Park M, Lee CJ, Park JY. Nat. Comm. 2014, 5, 3227.
TREK-1 and Best1 Channels Mediate Fast and Slow Glutamate Release in Astrocytes upon GPCR Activation. Woo DH, Han KS, Shim JW, Yoon BE, Kim E, Bae JY, Oh SJ, Hwang EM, Marmorstein AD, Bae YC, Park JY, Lee CJ. Cell 2012, 55(10):2855-44.